Getting married abroad can seem like an intimidating experience – you may not speak the language, you don't have any contacts with suppliers, you are not familiar with local traditions, you don't know the right price to pay for services, you don't know who to turn to if there is a problem – the list goes on. Most couples solve these issues by putting themselves in the hands of a wedding planner: imagine if you could just find a local person, intimately familiar with all of the wedding venues and services, formidably well-organised, friendly and creative, able to negotiate good deals with suppliers and a voice of calm on the big day itself, then surely you would be prepared to put yourself in their hands? Well look no further – here at Douro Weddings we have an experienced team  to provide the professional curated service that every bride and groom need, to cater for every request and find a solution to every issue that arises.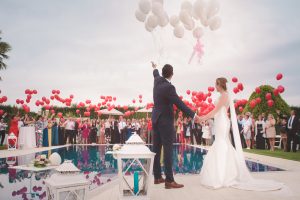 Here at Douro Weddings, we understand that it is a leap of faith to put your wedding in the hands of a wedding planner that you do not know, so we take our responsibilities extremely seriously – we stick to rigorous timelines and take and we work extremely hard on every event we are contracted to. Our experience extends beyond wedding planning to running corporate events via our sister company, PortoEvents, so we know what it takes to run an event large or small and are used to working with the most demanding of clients.
Spending your money wisely on the right wedding planner, can in the end save you money: we are experts at knowing the very best suppliers who charge fair prices for their services and in many cases we are able to negotiate a much better deal for our clients than they would be able to obtain independently or suggest an alternative venue or supplier that will save a lot of money on the budget.
We are very happy to offer an initial consultation free of charge, when we will look at your requirements and give you an idea of what is possible for your budget as well as a flavour of how weddings generally work in the Douro Valley!
Related Articles