The most sought after wedding venues on the Douro valley tend to be found up near Pinhão in the heart of Port wine country – whilst the views up there are the most stunning to be found in all Portugal and the history and traditions of the region add a unique angle to the venues, there can be one problem, which is that you may have to drive 90 minutes or even 2 hours from Porto to get there. If you have a lot of guests travelling this can be problematic, but the fact is that there is a shortage of truly stunning venues lower down the river in easier reach of Porto.
One of the stand-out options is Douro41, which is to be found just 45 minutes from the centre of Porto, perched right next to the river. It was built to very exacting standards in 2018 with a striking modern design and has a lot to offer wedding couples looking for a high end wedding in the Douro valley. The hotel is not particularly large with 42 rooms and it can cater for weddings of up to 100 people. For a small to medium sized wedding it really has a lot to offer in terms of the both the ceremony and event itself and as a place for guests to stay for a day or two.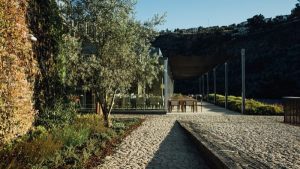 Douro41 is so called because it is 41 kms from the mouth of the river Douro and this relatively short distance means that it can be reached relatively easily by boat from Porto (in a couple of hours) which can be a memorable way for guests to arrive at the hotel (where there is a private dock). Here at Douro Weddings we can organise private boats to take guests to their hotel along the length of the Douro valley and indeed even the bride can arrive by boat for a truly dramatic entrance!
There are two outdoor pools with panoramic views of the Douro river as well as a spa and some beautifully manicured gardens. The rooms are relatively expensive by Douro valley standards (starting at €185), but they are very well appointed (especially the 5 suites); there is also a highly-rated 70 seater restaurant with a stunning terrace (of course with views of the river!), so all in all it is a fabulous place for wedding guests to stay.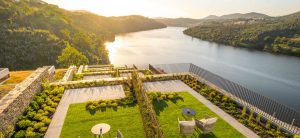 Douro41 does not host weddings in July, August and September, but for such a premium location within such easy reach of Porto there are some attractive prices for weddings, particularly if you are able to book out the entire hotel and if your wedding is held between November and April, when their rates are discounted by around 30%. The wedding ceremony can be held by the pool, in the gardens or inside. If you are looking for help planning your wedding in the Douro valley, please get in touch!
Related Articles